ADCRAIBT Image Recognition System-equipped Articulated Quadruped Walking Robot Kit "Quad Crawler AI"
Availability:
Only 5 left!
Original price
¥20,240
-
Original price
¥20,240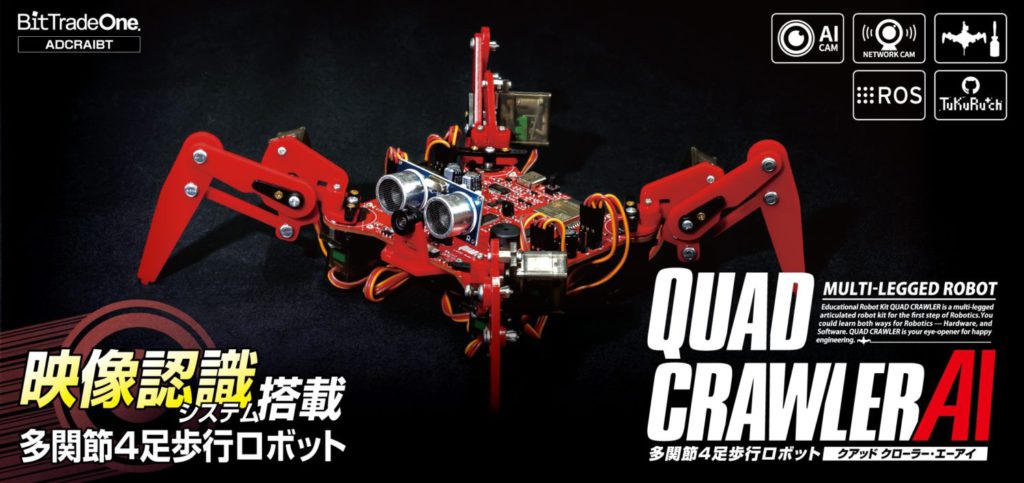 Based on the "Quad Crawler", which was very popular as a crowdfunding project, we have significantly improved and improved its functions.
Easy kit assembly that can be assembled with only a screwdriver and a series of humorous movements are the same, but an AI control function based on image recognition has been added.
From basic usage such as avoiding obstacles, you can learn the basics of AI control such as mapping based on the route you have taken so far and escaping from the maze.
The programming application continues to use the scratch language development environment "Tsukurutchi".
You can easily work with block programming.
We also made major improvements to the leg parts and the mounting part with the board, making it easier to make and achieving greater movement.
Deepen your understanding of the field of robotics by creating a new quad-crawler AI.
---
Example of product use
As an easy-to-assemble robot, a learning gift for children
An introductory kit to hardware/software for college students who want to study engineering
AI control learning using video recognition
Demonstration for students using video recognition
---
Product features
・Equipped with an AI camera image recognition system! It is possible to act by recognizing faces and colors
Equipped with an AI camera, it can perform face recognition, face mesh analysis, and environment recognition.
It can be used in various ways, such as line tracing, recognizing the movement of the mouth from a smile and making it perform a specific action.
Ideal for the first step in learning AI image recognition.
・Video from the camera can be imported as a network camera and checked from a PC.
Images from the AI ​​camera can be imported to a PC or smartphone via USB or Wifi.
You can also operate the controller through the video, and enjoy the fun of moving it as a remote-controlled robot.
It supports not only infrared remote control, but also PC keyboard, USB controller, and smartphone operation.
・Manufacturing a multi-jointed quadruped walking robot is much easier!
The acrylic body that can be produced with only one driver, which was popular in the previous quad crawler, is also powered up.
By changing the design, we have improved the efficiency of the production process and the rigidity of the legs, making it easier to assemble and move.
・Various actions and programming can be executed from the scratch application "Tsukurutchi"!
The simple programming application "Tsukurutchi", which also works in a browser, has evolved to match the Quad Crawler AI.
As a scratch programming app that is ideal for introductory and learning, it has become easier to use and easier to understand.
It is also perfect for children's programming learning in anticipation of STEM education.
The online manual is published on Github, and anyone can try programming from the basics.
・Compatible with ROS (Robot Operation System)
It can be controlled by an OS for controlling robots that runs on Linux.
*A ROS node program that performs Websocket communication is required. 
please note!
This product is an assembly kit. Basic craft knowledge is required for production.
Round LCD is not included in the kit.
A Windows or MAC environment is required to make detailed operation settings for the robot.
(* Batteries and AC adapter are not included. Please prepare them separately.)
---
basic specifications
[Installed microcomputer] ESP32-WROOM-32E
[External interface] Infrared receiver, USB Type-C (2.0), servo motor spare output x4, GROVE connector (UARTx1, I2Cx1)
[Peripheral functions] Camera, ultrasonic sensor, buzzer, full-color LED x8, general-purpose tact switch x1, reset tact switch x1
[Power supply] AA alkaline or nickel-metal hydride batteries x 4 (batteries not included), DC jack (DC5V only)
[Programming environment] Dedicated application (supported OS Windows)
or Arduino IDE (supported OS Windows, MAC OS, etc.)
[Driver] Servo motor x 8 (controlled by PCA9685)
[body weight] about 210g
[Body size] W190 x H90 x D190mm
[Accessories] Remote control, manual [Separately required items] 2 Phillips screwdrivers (large and small)
[Operating temperature] 0 to 40°C (no condensation)
[Country of origin] Made in Japan