ADCQ1706CPRE Raspberry Pi compatible! μamp oscilloscope
Availability:
Only 2 left!
Original price
¥8,448
-
Original price
¥8,448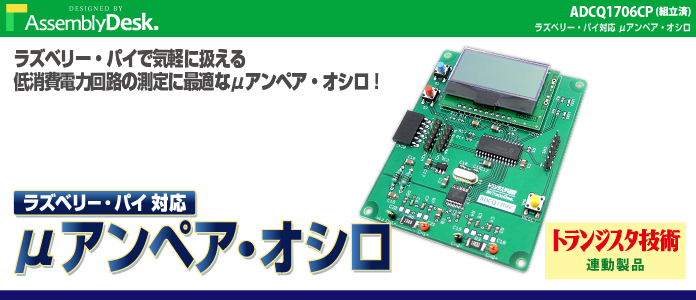 For measuring the power consumption of battery-equipped IoT devices! 2 range configurations of 0.1 μ to 20 mA and 1 μ to 0.5 A

μAmpere oscilloscope ideal for measuring low power consumption circuits that can be easily handled with a Raspberry Pi!
Product Summary
It is necessary to measure the actual current consumption when manufacturing equipment using low power consumption circuits in IoT. Ordinary measuring instruments cannot accurately measure minute currents on the μA level that dynamically change more than 100 times. This is where the μAmpere oscilloscope comes in. It can measure currents that change from the μA level to the mA level as accurately as possible.
*Simple assembly/instruction manual and Windows application must be downloaded from our website.
Product features
Measure the power supply current of low power consumption circuits!
Micro currents on the μA level, which dynamically change more than 100 times, cannot be measured accurately with ordinary measuring instruments. This product is a μAmpere oscilloscope that can accurately measure current that varies from μA level to mA level.
Measure less than 1μA ! ΔΣ (ruby: delta sigma) 24 -bit high-performance AD ​​converter

Uses a high-performance ΔΣ A-D converter with 24-bit resolution! Continuously measures minute power that fluctuates dynamically in high-speed operation.

Visual measurement of dynamic current changes of over 110dB !

Use Raspberry Pi as a high-performance component! Utilizing the network performance of the Raspberry Pi, it is displayed on graphs and browsers. Dynamic current changes of over 110 dB, such as intermittent circuit operation, can be visually measured with a resolution of 0.1 μA.

Connect with USB ! Includes a serial conversion adapter

A serial conversion adapter is included as standard, allowing direct connection to a Raspberry Pi, PC, etc. via USB.
【please note】
・Raspberry Pi is not included with this product.
Product Specifications
[Supported OS] Raspbian [Supported models] Raspberry Pi Model B+ / Raspberry Pi 2 Model B / Raspberry Pi 3 Model B / 4B / DOS / V PC with Windows 10, Windows 8.1, Windows 8, Windows 7, Vista?
[Input terminal] Check terminal for frequency measurement: 2 ch [Power supply] 5 V supplied from Raspberry Pi or USB serial conversion adapter
[Maximum sampling speed] 8ksps
[Number of channels] 2 channels
Channel 0 (CH0): Shunt resistance: 1Ω Measurement current: 1μA to 500mA
Channel 1 (CH1): Shunt resistance: 10Ω Measurement current: 0.1Aμ to 20mA
[Display] 2 channel simultaneous browser display
[Display] Character liquid crystal module (16 x 2 lines)
[body weight] about 37g
[Size] W70 x D90 x H7.4mm (excluding protrusions)
[Accessories] 1 serial conversion adapter (with 1 connection cable) 2 IC clip cords red 2 IC clip cords black
[Warranty period] 1 year from purchase
[Operating temperature] 0 to 40°C (no condensation)
[Country of origin] Made in Japan
———Notes on handling this product———
・The performance of the listed parts is the performance of the parts themselves, and does not guarantee the product life.
・Depending on your PC, Android and OS environment, you may not be able to use all functions.
・A separate internet environment is required to install the application software.
・Depending on some applications, the functions of this product may not be available.
・In the event that the customer suffers damage due to reasons attributable to our company in connection with the production/use of this product, we will compensate for the damage up to the sales price only for direct damage, and in any case damages exceeding the sales price. shall not compensate for
・Specifications are subject to change without notice for improvement. Thank you for your understanding.
Other logos, system names, and product names mentioned are registered trademarks or trademarks of their respective companies and trademark holders.
*Raspberry Pi body, case and cables are not included.
Raspberry Pi is a registered trademark of the UK Raspberry Pi Foundation. Raspberry Pi is a trademark of the Raspberry Pi Foundation.
Other logos, system names, and product names mentioned are registered trademarks or trademarks of their respective companies and trademark holders.