ADE32CD ESP32 Audio Streaming Stand Experimental Board "Connected Doll"
Availability:
5+ in stock, ready to be shipped
Original price
¥7,128
-
Original price
¥7,128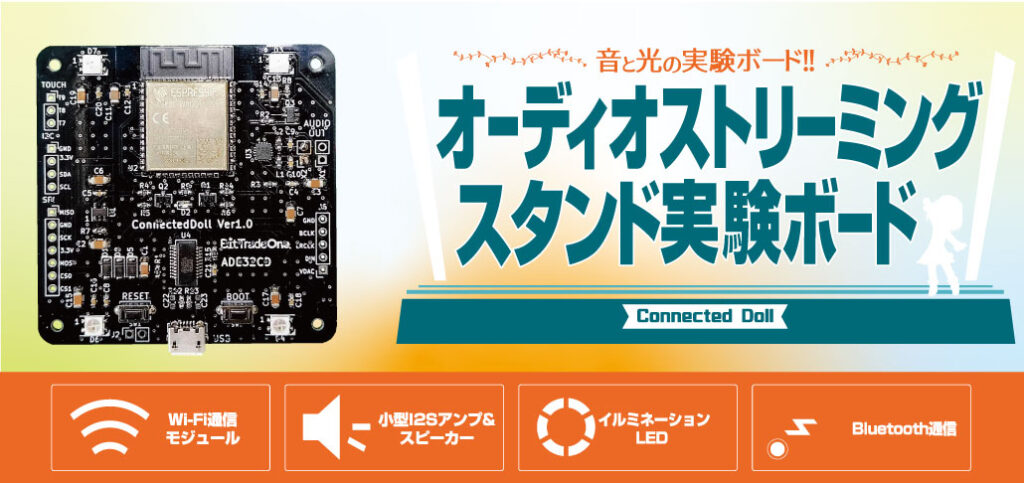 This product is a sound and light experiment board that combines the ESP32-WROOM-32E, which is easy to develop, with a small I2S amplifier, a speaker, and an illumination LED.
It is a highly customizable item that allows you to enjoy implementing an audio streaming function using custom firmware created and modified by yourself, from experiments using various single-function sample programs.
You can realize exhibitions such as figures that are a bit different.
Product features
Open source hardware! Supports creation of original firmware capable of various operations
Circuit diagrams, design information, etc. are available on the web.
This product is open source, so all sample programs can be modified.
Let's do an audio streaming experiment using a simple sample program with a single function!
This is an experimental board that includes simple sample programs for each single function, such as LED lighting, Wi-Fi usage, and Bluetooth speakers, and ultimately aims to implement an audio streaming function.
The ESP32 module, USB-serial conversion, and power supply circuit are installed on the board, and you can start experiments immediately by connecting a micro USB cable to a PC with a development environment (IDE) installed.
Name of each part
・Case combined acrylic stand
Pre-assembled with an acrylic stand that is the perfect size for displaying commercially available small-sized figures.
Caption: This is an example. Figures and figure support rods are not included.
please note!
In the initial state of this product, the basic operation firmware for operation confirmation is installed, and it is intended for the introduction and modification of the firmware by the user. To use it, you need to have specialized knowledge about electronic work, electronic circuits, and software development.
Separately, a USB cable compatible with USB Micro-B is required for connecting the PC and the power supply.
basic specifications
[Installed microcomputer] ESP32-WROOM-32E
[External interface] SPI x1, I2C x1, I2S x1, analog audio output x2, touch sensor terminal x3
[power supply] 5V Micro-B
[body weight] about 40g
[Body size] W60mm D60mm H5mm (board only) (excluding protrusions)
[Accessories] Warranty card
[Required separately] USB Micro-B cable
[Operating temperature] 0 to 40°C (no condensation)
[Warranty period] 1 year