ADFBE02S Smart Textile Sensor Development Board Set Wool Type
Availability:
Out of stock
Sold out
Original price
¥6,028
-
Original price
¥6,028
Product model number: ADFBE02S JAN code: 4562469771137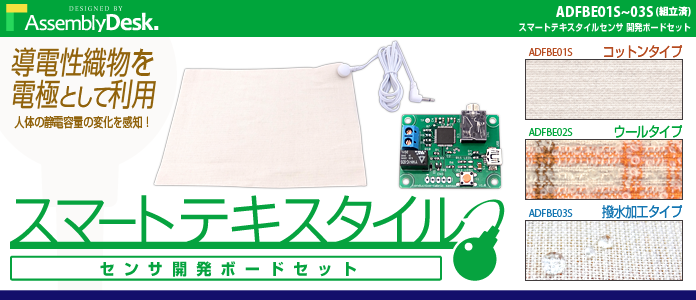 A smart textile sensor development board set that can be developed as a capacitive touch sensor or proximity sensor by sensing changes in the capacitance of the human body using conductive fabric as an electrode.
Depending on your ideas, various conductive cloths can be used as proximity sensors, and you can adjust sensitivity and threshold values ​​while watching changes in capacitance on the screen using a monitor tool.
Equipped with a relay circuit convenient for switch control!
A variety of external switches can be used by installing a relay circuit!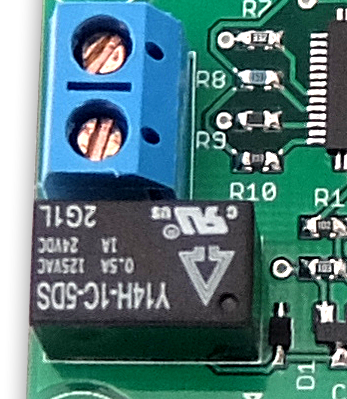 Selectable between momentary and alternate on the sensor software
The behavior of the switch can be selected on the software, a self-reset type "momentary" that remains ON only while the button is pressed, and a self-retaining type "momentary" that maintains the ON state even if the button is released after the button is pressed. alternate". The width of the switch spreads by the selection of 2 methods.
Plenty of monitoring tools that can grasp the situation in real time
A monitor tool is provided that can display the sensor values ​​in real time on the screen as a graph.It is possible to set the sensitivity in 2 steps and the threshold value in 255 steps, and it is possible to adjust to the optimum state according to the conductor used as the sensor and the environment. is.

Released DLL for embedding PC application !

The library is released in DLL format so that the sensor values ​​can be used from any application.
Sensor board product specifications [Touch (proximity) sensor] 1ch [Operation confirmation LED] 2 points [Power supply] 5V (USB power supply) [Size] W47xH13xD36 (excluding protrusions)
[Weight] Approx. 12g (single board) [Separately available] USB mini-B cable [Accessories] 1 warranty card, 1 sensor connection cable, 1 conductive cloth [Operating temperature] 0 to 40°C (no condensation)
[Country of origin] Made in Japan [Warranty period] 1 year from purchase Wool type with conductive cloth [Size] Approx.
———Notes on handling this product———
・This product is for hobby use. Regarding kit products, we only provide support for missing or damaged accessory parts before assembly, and we do not support any problems after assembly.
・The performance of the listed parts is the performance of the parts themselves, and does not guarantee the product life.
・Depending on your PC, Android and OS environment, you may not be able to use all functions.
・A separate internet environment is required to install the application software.
・Depending on some applications, the functions of this product may not be available.
・In the event that the customer suffers damage due to reasons attributable to our company in connection with the production/use of this product, we will compensate for the damage up to the sales price only for direct damage, and in any case damages exceeding the sales price. shall not compensate for
・Specifications are subject to change without notice for improvement. Thank you for your understanding.
Other logos, system names, and product names mentioned are registered trademarks or trademarks of their respective companies and trademark holders.
Precautions when handling conductive cloth ・Do not turn on the cloth while it is wet.
・When washing, please remove the energized parts and avoid using bleach and detergents containing fluorescent dyes.
・Avoid tumble drying.
・Please set the iron finish at medium temperature or lower.