ADRSBB Breadboard Board for Raspberry Pi
Availability:
Only 2 left!
Original price
¥2,178
-
Original price
¥2,178
Product Summary
Adopting the same 30 columns x 10 rows as a standard half-size breadboard, this prototype board for Raspberry Pi is ideal for prototyping. The pin number of GPIO is also written on the board, and the work made on the breadboard can be transplanted as it is with the parts layout, making it possible to perform a series of work such as circuit design and prototyping using the breadboard in the shortest possible time. is.
It has a standard 2.54mm pitch and can be loaded with components such as resistors, diodes, integrated circuits, IC sockets and breakout boards.
It also includes a mirroring header, giving access to all pins and GPIOs on the Raspberry Pi.
Product features
・300 holes, 30 columns x 10 rows, same as a half size breadboard ・5V/3.3V/GND bus lines ・Equipped with 40-pin terminals for breakouts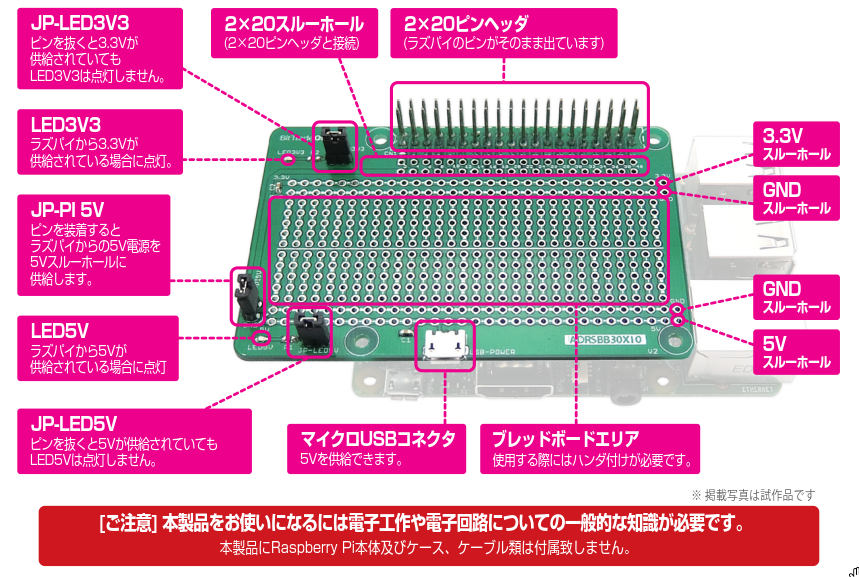 ●Basic specifications
[Target Raspberry Pi] Raspberry Pi Zero WH/Raspberry Pi Model B+/Raspberry Pi 2 Model B/
Raspberry Pi 3 Model B
[Number of holes] 300 holes
[Power line] 5V/3.3V
[Power supply] Powered by Raspberry Pi or USB
[Size] W85xH26xD56mm (excluding protrusions)
[Weight] Approx. 21g (board only)
[Accessories] 40-pin stacking connector 1PCS, jumper pins 3PCS, screw set 1
[Operating temperature] 0 to 40°C (no condensation)
[Country of origin] Made in Japan
———Notes on handling this product———
・This product is for hobby use. For personal use only, not for commercial use without the permission of the copyright holder.
・The performance of the listed parts is the performance of the parts themselves, and does not guarantee the product life.
・All functions may not be available depending on your PC, Raspberry Pi and OS environment.
・If the customer suffers damages due to reasons attributable to our company in relation to the production/use of this kit, we will compensate for the damages up to the sales price only for direct damages, and in any case, damages exceeding the sales price. shall not compensate for
・Specifications are subject to change without notice for improvement. Thank you for your understanding.
*Raspberry Pi body, case and cables are not included.
Raspberry Pi is a registered trademark of the UK Raspberry Pi Foundation. Raspberry Pi is a trademark of the Raspberry Pi Foundation.
Other logos, system names, and product names mentioned are registered trademarks or trademarks of their respective companies and trademark holders.