ADRVMICR2 REVIVE USB †MICRO† Rev.2
Availability:
5+ in stock, ready to be shipped
Original price
¥2,288
-
Original price
¥2,288
Our best-selling product is surprisingly small!
New firmware supports chattering prevention function and rotary encoder connection!
Product features
It is a module that can easily create original USB devices. This module handles all the input processing and settings of the USB interface, which is difficult for users, just by connecting a switch to a pin.
The highlight of the Rev.2 renewal is the firmware update.
The chattering countermeasure function and rotary encoder are now available, further expanding the range of devices that can be created.
* Customers who have the old REVIVE USB MICRO (model number: ADRVMIC) can also use the new functions by updating the firmware.
Note: If you write the firmware of the conventional REVIVE USB (AD00007), you will not be able to rewrite the firmware after that. (because the specification of bootloader mode is different)
New firmware supports chattering prevention function and rotary encoder connection!
We have responded to the many requests for chattering prevention function and rotary encoder connection.
It is also possible to create devices that require more precise operation and devices that require rotational movement.
Succeeded in downsizing the size of a 1-yen coin!
With a width of about 20mm and a weight of about 1g, we succeeded in miniaturizing the size to about the same size as a 1-yen coin. Any device can be used!
You can connect it to a computer via USB and set any operation (mouse click/key input, etc.) to 12 pins using dedicated software. Once set, the operations are saved in the internal memory of the module, and can be used without changing the settings even when connected to another computer.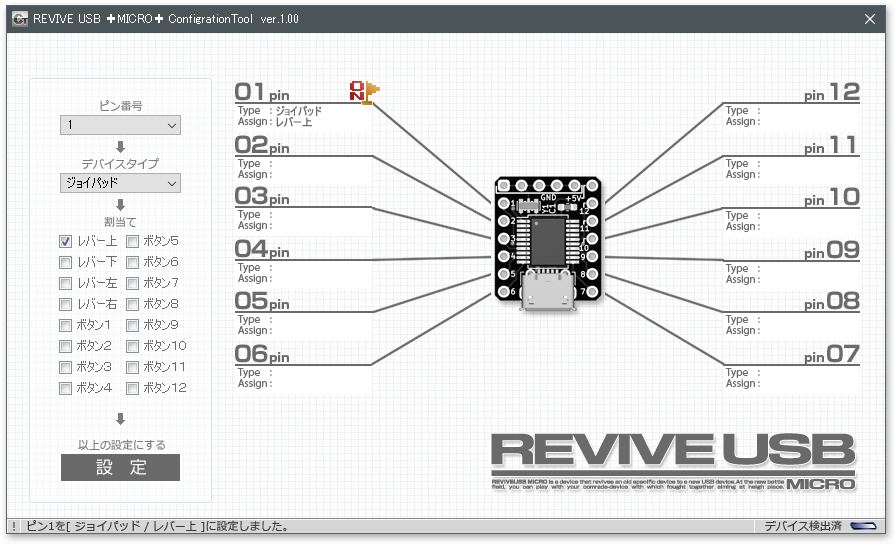 ・Each function of mouse/keyboard/joypad can be assigned by simple setting tool.
The settings for each operation are made using dedicated Windows software with an intuitive interface, so anyone can easily set them.
It is also possible to mix the mouse function/keyboard function/joypad function.
Built-in function
<Mouse function> Left click/Right click/Wheel click/Mouse up/down/left/right/Wheel scroll up/down
<Keyboard function> Assignment to any key
<Joypad function> X-axis / Y-axis (up, down, left, right) / button 1 to button 12
Matrix-compatible firmware is available, and supports up to 36 buttons!
Up to 36 inputs are supported by changing to matrix compatible firmware.
(Firmware rewriting is required.)
*When using the matrix firmware, the chattering prevention function and rotary encoder cannot be used.
please note!
General knowledge of electronic work and electronic circuits is required to use this product. (Cables are not included.)
Basic specifications [Supported OS] Windows 7 or later [Size] W16 x D20 x H5mm
[Weight] about 1g
[Number of inputs] 12 (digital)
[Connector] USB Micro B
[power supply] 5V (USB micro B)
[Operating temperature] 0 to 40°C (no condensation)
[Warranty period] 1 year [Accessories] 1 warranty card [Country of origin] Made in Japan
―――Notes on handling this product――――
・This product is for hobby use. For personal use only, not for commercial use without the permission of the copyright holder.
・The performance of the listed parts is the performance of the parts themselves, and does not guarantee the product life.
・If the customer suffers damages due to reasons attributable to our company in relation to the production/use of this kit, we will compensate for the damages up to the sales price only for direct damages, and in any case, damages exceeding the sales price. shall not compensate for
・Specifications are subject to change without notice for improvement. Thank you for your understanding.