ADU2B02P USB2BT PLUS
Availability:
5+ in stock, ready to be shipped
Original price
¥8,228
-
Original price
¥8,228

Convert your favorite HID device to BlueTooth! "USB2BT PLUS"

A conversion adapter "USB2BT PLUS" that converts USB HID devices such as your favorite USB keyboard / mouse / game pad to Bluetooth and allows you to operate iPhone / smartphone / PC is now available.

In addition to being able to easily enjoy Bluetooth conversion of HID devices from USB with a built-in Bluetooth module that has already been compliant with technical standards, it also supports switching between smartphones and PCs up to 3 devices, making it an even more convenient item.





Product features


- Convert your favorite USB keyboard/mouse/gamepad to Bluetooth!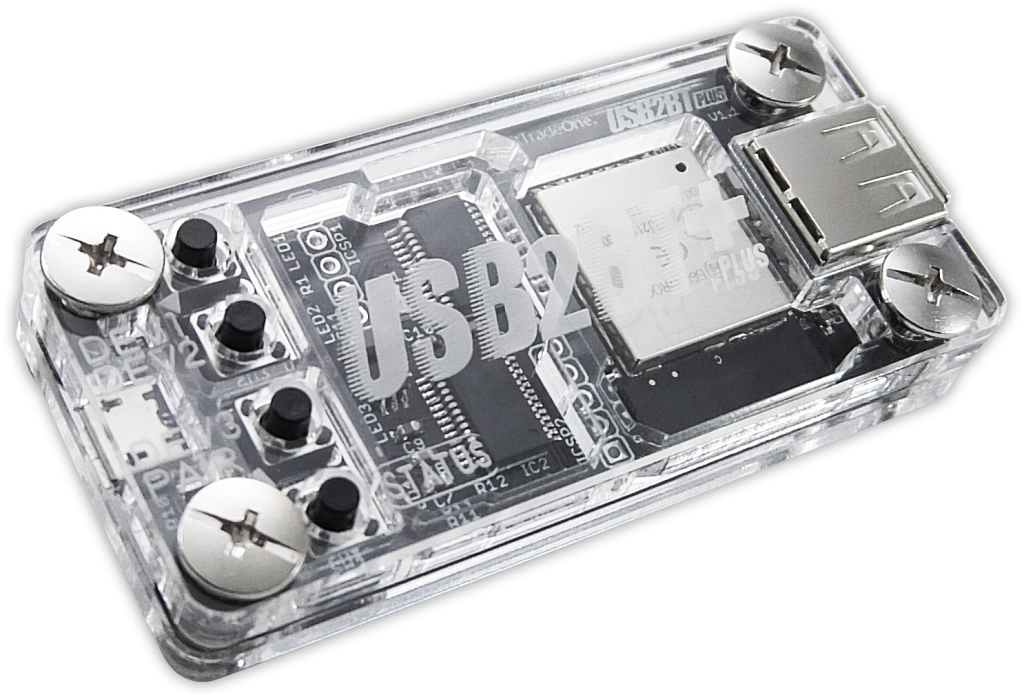 ・You can input keys from your laptop keyboard to another smartphone/tablet via Bluetooth!・Can also be used as a simple switching device!
Supports switching between smartphones and PCs up to 3 devices, and supports not only Bluetooth connection but also USB pass-through!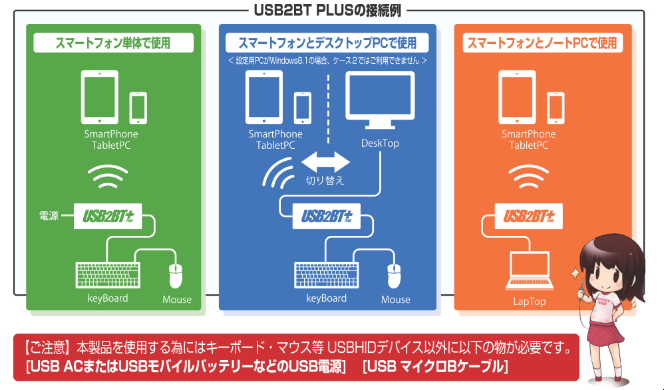 *
Case 2 cannot be used when the PC for setting is Windows 8.1.
Also supports key replacement function (Ver0.994 or later)
By using Ver0.994 or later, it also supports the long-awaited key replacement function. By creating a setting file, you can replace any key, and you can create a variety of key layouts such as thumb shift.
Click here for a detailed explanation by the developer of this product, Mei Sota!
Creator commentary page
(external link)
Name of each part

please note!
In order to use this product, the following items are required in addition to the USBHID device such as the keyboard and mouse that you use.
・USB power supply such as USB AC or USB mobile battery
・USB micro B cable
basic specifications
[Applicable smartphones/tablet PCs] iOS/android/Windows7 or later/MAC OS X (Bluetooth compatible)
[Target input device] Keyboard / mouse / game pad (may not be supported depending on OS function)
[Setting PC] Windows 7 or later (Windows 8.x does not support pass-through connection of input devices)
[Connector] USB type A connector (USB1.1 full speed)
[Wireless system] After Bluetooth 2.1 EDR, HID profile
[power supply] 5V (USB micro B)
[Operating temperature] 0 to 40°C (no condensation)
[Size] W76 x D35 x H16mm (without protrusions)
[Weight] about 50g
[Packing contents] Main unit 1 warranty card 1 copy
[Warranty period] 1 year
[Country of origin] Made in Japan
Notes on handling this product
please note:
・All functions may not be available depending on your PC, device, or OS environment.
・If the customer suffers damage due to reasons attributable to our company regarding the production/use of this kit,
Only for direct damage, we will compensate for damages up to the sales price, and in any case, we will not compensate for damages exceeding the sales price.
・Other product names and company names are generally registered trademarks or trademarks of their respective companies.
・Specifications are subject to change without notice for improvement. Thank you for your understanding.