Haptic device development/Experience module "hapStak"
Availability:
5+ in stock, ready to be shipped
Availability:
5+ in stock, ready to be shipped
Original price
¥4,158
-
Original price
¥7,348
"Haptic Device Development/Experience Module ' hapStak '" is a set of vibration actuators and drive circuits, and is a module for easily handling tactile sensation reproduction by vibration.
Adopting the latest actuator " FOSTER ACOUSTICHAPTIC® " developed by Foster Electric, it creates a variety of tactile sensations as a versatile actuator that combines "wide range vibration", "low delay" and "quietness" that are not found in conventional modules.
A "digital version" for developers with an I2S connection socket for various microcomputer boards such as ArduinoMKRZero and M5StackAtom to support advanced vibrotactile implementations with various devices. Two types of "analog version" that you can experience are available.
It is possible to create vibration controller devices for the purpose of improving the experience of games and VR entertainment.
This is a product that aims to set a new standard in the development of a new genre of tactile devices that "create sensations that should not exist."
Example of product use Implementation on a game controller
Implementation on hand devices when experiencing VR Use in exhibitions, amusement, etc. Demonstrations at exhibitions Teaching materials for engineering and information classes
Product features
Innovative vibration performance with Foster Electric's latest actuator FOSTER ACOUSTICHAPTIC®
Adopts a versatile actuator "FOSTER ACOUSTICHAPTIC®" that combines "wide range vibration", "low delay" and "quietness" that could not be achieved with conventional actuators.
This machine alone covers vibrations at various frequencies that could not be covered without combining multiple motors. It boasts an overwhelming power of expression, from heavy impact to soft tactile sensations, and delicate vibrations like knocking on a ballpoint pen.
With a response speed of less than 50 ms, which is five times the specifications of conventional products, and quietness at the level of a bedroom, it delivers a pure vibration experience to users.
ACOUSTICHAPTIC reference video
https://www.foster.co.jp/products/productdata/vibrationhttps://www.foster.co.jp/products/productdata/vibration_actuator.mp4_actuator.mp4
Foster Electric actuator specifications list (transition to Foster Electric website)
https://www.foster.co.jp/products/vibration_actuator/?fbclid=IwAR1Ar0-cDZA6prkS8GN3YpAzHFzqFHuJsf6as6f6dOdPpsH0PHMm0VEb_Sc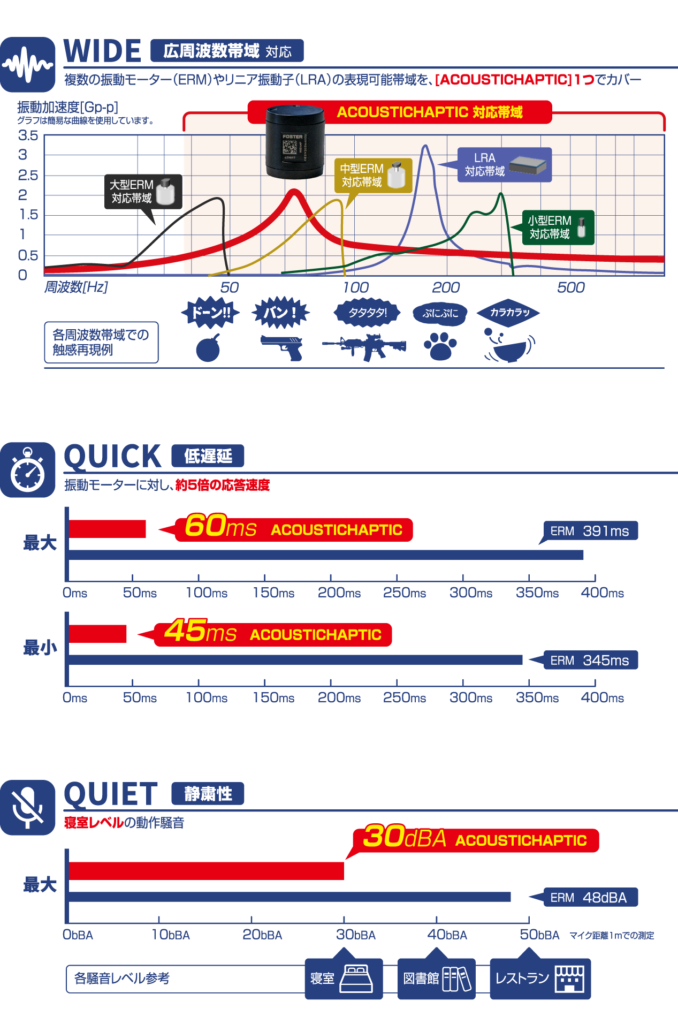 Compatible with I2S communication, controllable from various microcomputer boards *Digital version
Equipped with an I2S interface compatible with ArduinoMKRZero and M5StackAtom series to support device control with a small microcomputer board.
It is possible to play audio data directly from the microcomputer board and generate vibration.
Power is supplied from the microcomputer, so the cable is neat and can be operated with the power of a general USB mobile battery.
You can create a handy-sized small device by yourself using the network function of the microcomputer board.
In addition, an assembly board made of MDF is included.
It is possible to create a simple device immediately.
A high-quality tactile experience can be easily reproduced using only audio signals *Analog version
A surprising tactile experience is possible just by using audio signals such as basic mp3.
The module precisely reproduces the tactile sensation of familiar sounds such as the sound of a bat being hit or the sound of a keyboard being typed.
Aiming to create a new standard in tactile device development, plans to expand to various events
Various events and campaigns are held to make hapStak more widely known to developers.
In addition to co-sponsoring the manufacturing contest "Heroes League" and encouraging the development of various tactile devices using hapStak as a rental device, we plan to hold joint events with the tactile technology community "Shockathon".
We will actively support development so that it will be accepted as a new standard for tactile device development.
please note!
To use the digital version of this product, you need a microcomputer board (sold separately) and a PC for programming, as well as basic knowledge of them.
The M5StackAtom terminal and ArduinoMKRZero terminal are exclusive and cannot be connected at the same time.
analog version
This product is a module product that includes an actuator and a drive circuit.
Please prepare your own device to play the sound source. Power supply from the USB power terminal and the battery box are exclusive and cannot be used at the same time.
basic specifications
[Equipped actuator] Foster Electric ACOUSTICHAPTIC® 639897
[Equipped amplifier] Digital version: NS4168
[Compatible microcomputer board] M5StackAtom/Lite/Matrix/Echo (with Echo speaker sound), ArduinoMKRZero
[Required power] About 1W
(Digital version: Supplied from microcomputer board, Analog version: Supplied from USB or attached battery box)
[Body weight] Digital version: approx. 45g (when assembling MDF)
Analog version: Board about 5g, actuator about 30g
[Body size] Digital version: about W72 x H20 x D30mm (when assembled with MDF)
Analog version: Approx. W25 x H10 x D25mm (board only, excluding battery box and actuator)
[Accessories] MDF Stacking Board (digital version only), battery box (analog version only), warranty card [Package size] F-8 chuck bag packing approx. 170 120 20 mm
[Operating temperature] 0 to 40°C (no condensation)
[Warranty period] 1 year [Country of origin] Made in Japan